Moral Excellence, Good Books, The Golden Rule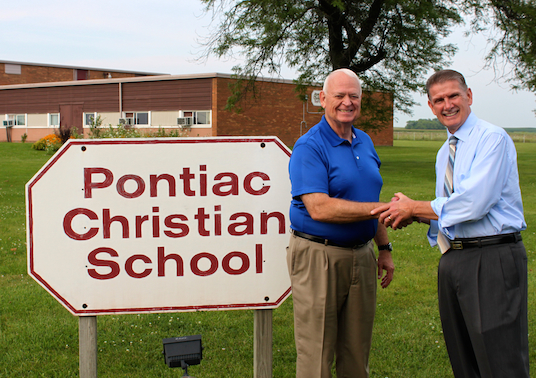 Pontiac Christian School announces Mr. Dale Ralston as the newest member of our team!
Mr. Ralston and his wife, Judy, reside in Dwight; they have three children.
Mr. Ralston is a veteran teacher with over 30 years experience in the classroom. His Bachelor and Master's degrees are in science, having instructed and coached junior high, high school, and college students.
We warmly welcome Dale to Pontiac Christian and to Grades 7-8: God bless you!
The real way to build a family!

The heritage of Pontiac Christian … Biblical, personal, effectual. Since 1982, Pontiac Christian School has provided outstanding Christian Education for families who want to integrate faith and learning for their children. Excellent academics? Integrity in athletics? You will find both at PCS, because we are committed to Jesus Christ and His Lordship over all aspects of life. Pontiac Christian School serves students from Pre-K 3-year-old through 8th grade, representing 18 different churches in the area. Our mission is to aid parents in leading children to spiritual, academic, physical, and social truth. At Pontiac Christian School, we value academic excellence with a Scriptural foundation that includes moral instruction, education for strong family values, critical thinking skills, and solid communication skills provided in an optimal learning environment. PCS is a member in good standing of the Association of Christian Schools International, the Illinois Elementary School Association and the Illinois Coalition of Non-Public Schools. Moral excellence sums it up!
"Blessed is the nation whose God is the Lord" Psalm 33:12